Underground Scholars Initiative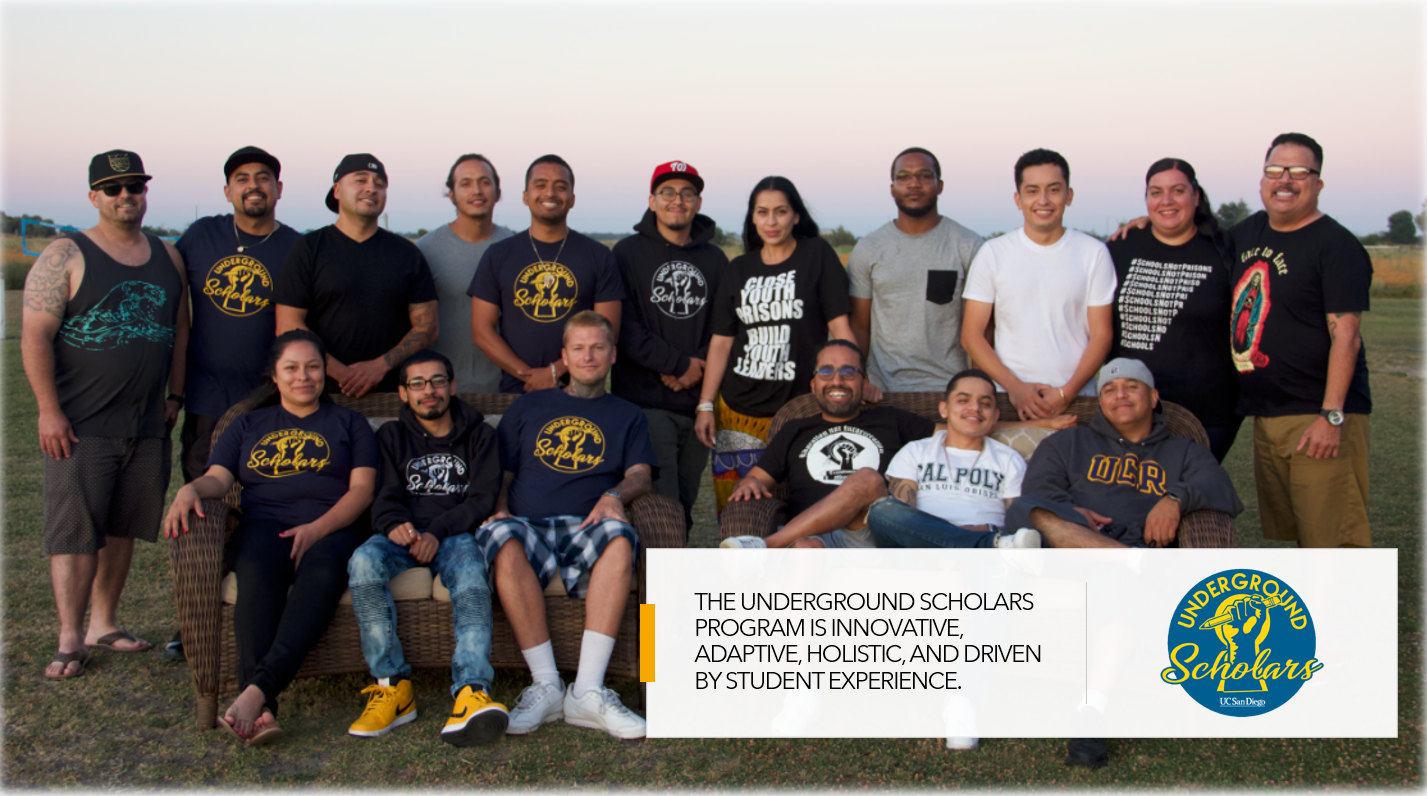 Mission Statement
The Underground Scholars Initiative is building the prison to school pipeline through recruitment, retention, and advocacy for incarcerated, formerly incarcerated, and system impacted students.
Underground Scholars History and Statewide Expansion Across UC Campuses
In the Spring of 2013, formerly incarcerated and system-impacted students at UC Berkeley established the Underground Scholars Initiative as a student-led organization. Shortly after USI was developed at UC Berkeley, formerly incarcerated and system-impacted students at UCLA, UC Riverside, and UC Irvine established a USI chapter on their campus. 
In September 2019, Berkeley Underground Scholars organized a statewide convening with formerly incarcerated students from across all the UC schools to plan the expansion of USI chapters across all UC's. Today, there are 8 Underground Scholars Initiative chapters: UC Berkeley, UC Davis, UC Irvine, UC Riverside, UC San Diego, UC Santa Barbara, UC Santa Cruz, and UCLA.
To learn more about the Underground Scholars Initiative click here: https://undergroundscholars.berkeley.edu/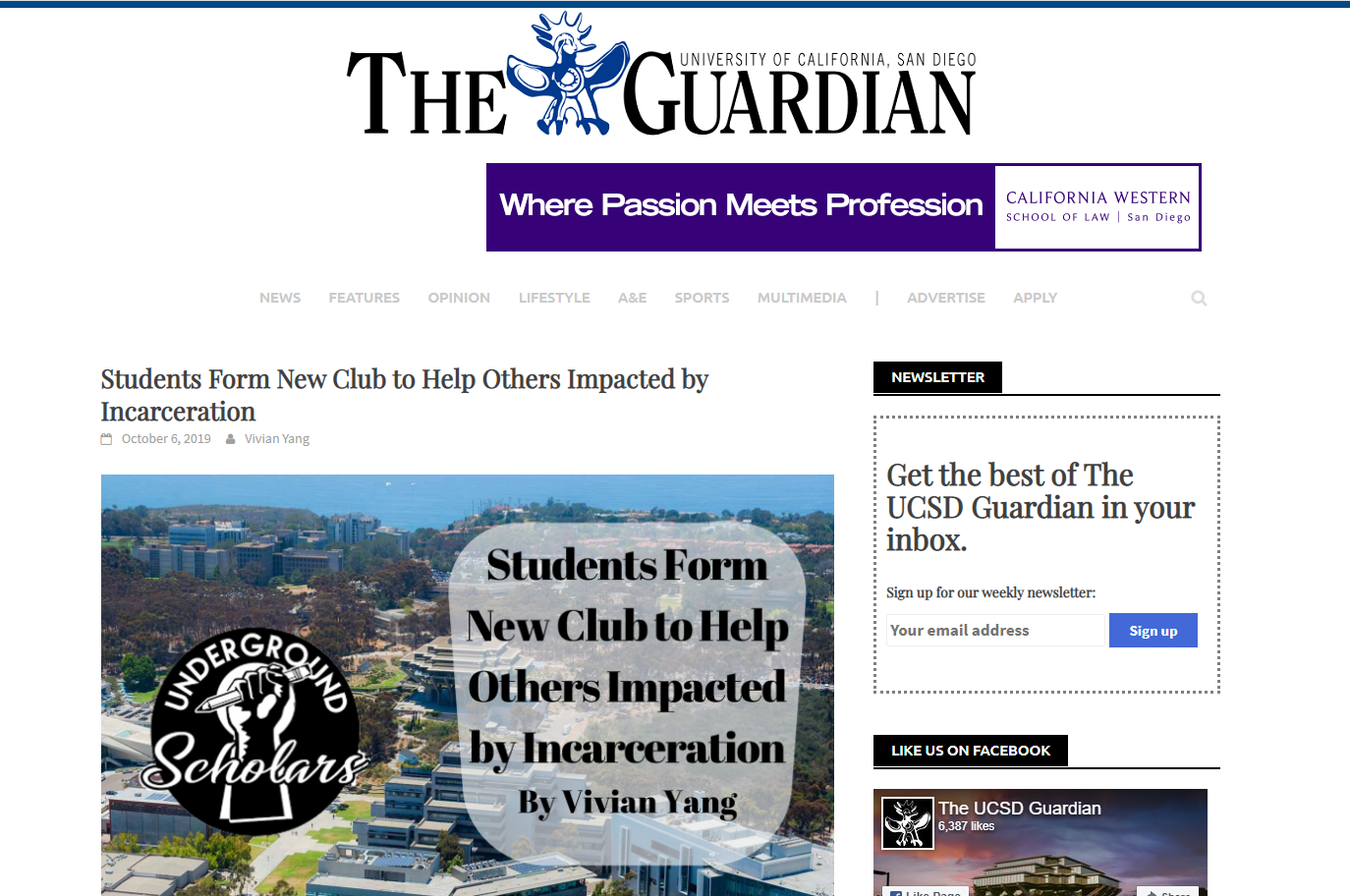 Triton Underground Scholars
The Underground Scholars Initiative chapter at UC San Diego was kicked-off in the Fall of 2019 with their first organized event, "Education, not Incarceration" in collaboration with SAMI (Students Against Mass Incarceration) and C.R.E.A.T.E. The film, "From Incarceration to Education" (FITE)
https://vimeo.com/237933534
,
was featured, f
ollowed by a discussion panel with UCSD formerly incarcerated students. 
The USI chapter at UCSD then worked with PATH from UCSD to host campus visits for city college students and later to host virtual events due to COVID-19. 
In the late summer of 2020, USI partnered with OASIS to establish the Triton Underground Scholars program to create a receptive culture and supportive system for formerly incarcerated and system impacted students at UCSD. Triton Underground Scholars operates an Outreach & Recruitment Program for students interested in transferring to UCSD and a Retention Program for UCSD students. 
Get involved with the USI student-run organization on campus by building community, hosting events, and staying engaged on and off campus! 
Go over to our Student-Run Website: https://usiucsd.org/
Our Initiatives
Recruitment
We provide support to incarcerated, formerly incarcerated, and system impacted students by conducting outreach events, supporting them through community college, preparing them for the UC, sharing educational resources on how to apply to UCSD, coaching them through the UC application process, offering campus tours, and workshops to navigate the education system.  
Retention
Our retention program provides formerly incarcerated and system-impacted students with a space on campus to meet and study, academic tutoring and advising, peer coaching, leadership development, student employment, community events, and workshops on how to navigate UCSD. 
Advocacy
We advocate for currently and formerly incarcerated students and their families. In addition to individual advocacy for students on campus and on parole/probation, we engage in local, state, and national policy advocacy to remove barriers and create opportunity for currently and formerly incarcerated people. We also train formerly incarcerated and system-impacted students to be policy advocates.
Wellness
The Wellness Pillar was added in recognition of our students' health needs. Mental, physical, social, emotional, and holistic. We have workshops and plethora of recreational events cater to Underground Scholar members.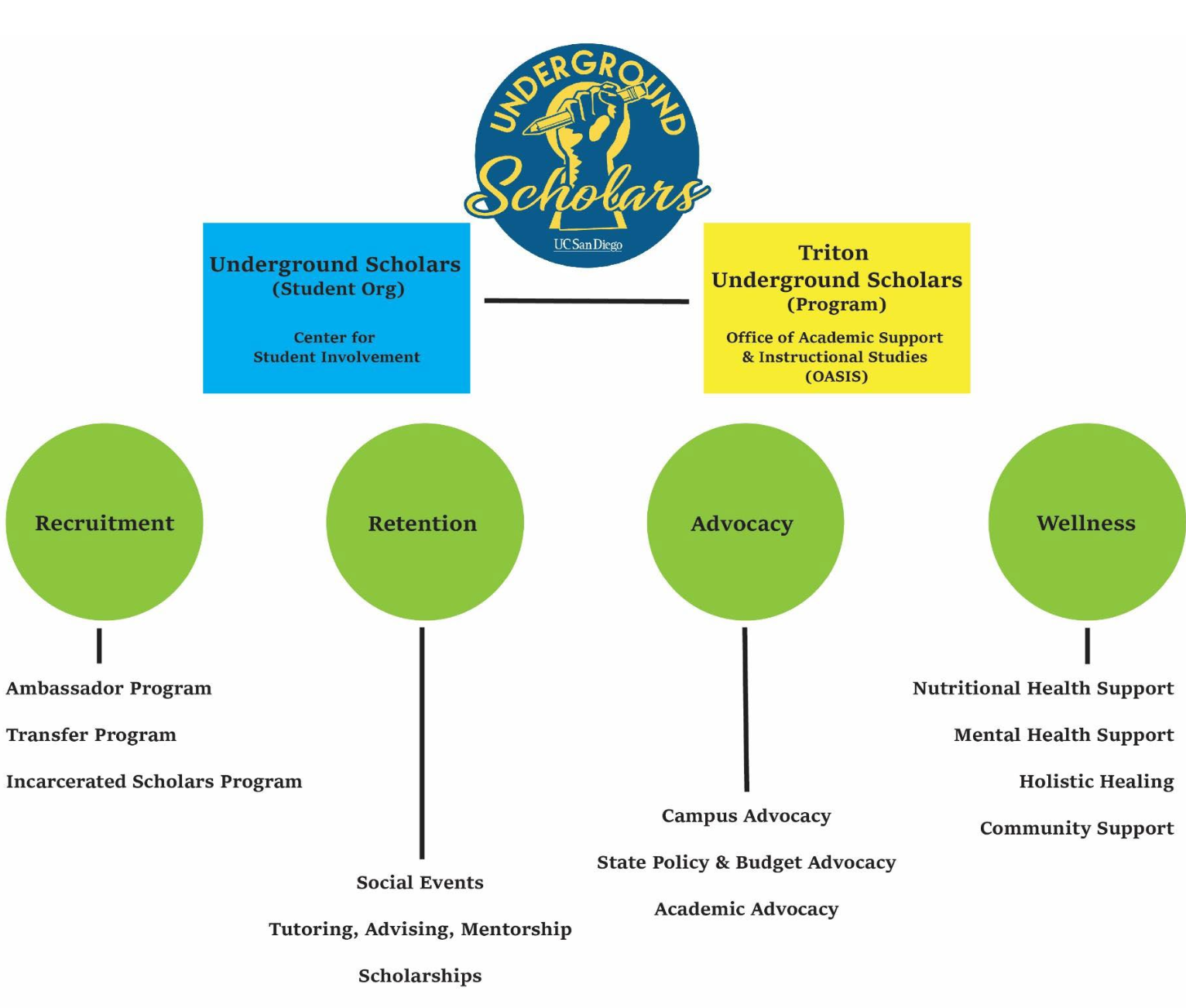 CONTACT US!
Triton Underground Scholars
9500 Gilman Drive
La Jolla, CA 92093-0045
Email: usi@ucsd.edu