Math and Science Tutorial Program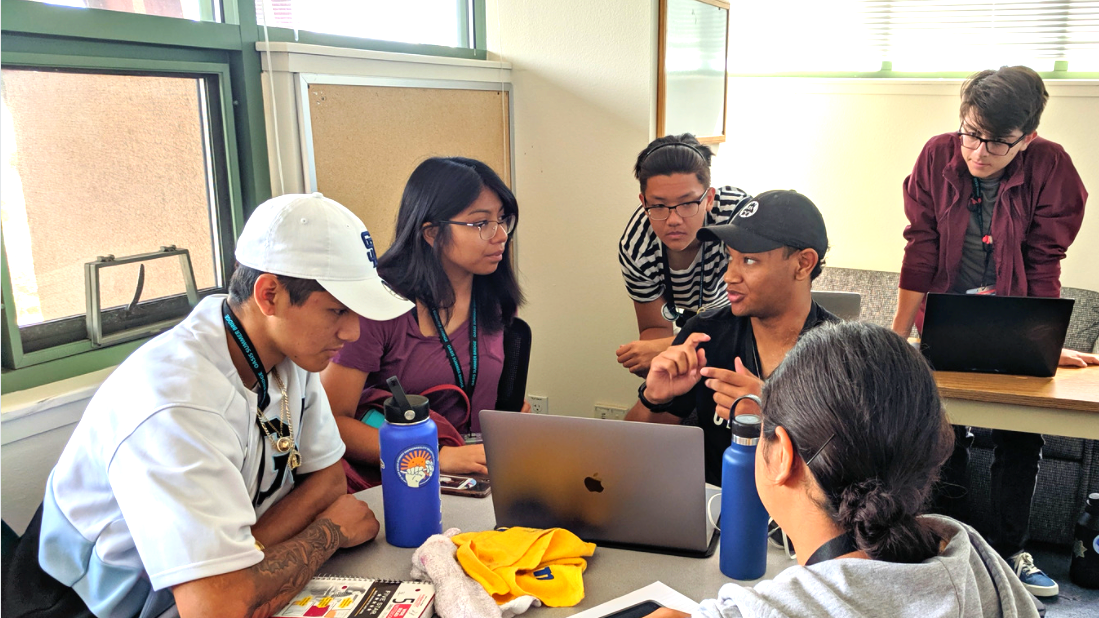 Mission Statement
The Math & Science Tutorial Program (MSTP) is a program under OASIS, whose core values are education, social justice, unity, community, and empowerment. AT MSTP, we believe in carrying out these values by providing equitable experiences and bringing joy to learning through the modeling of critical and active learning strategies in order for students to succeed in STEM courses. 
Through collaborative workshops, individual tutoring, study jams, and additional programming, we strive to create a welcoming community that is a safe space to ask questions and build connections with peers as collaborators. We train our tutors to become change-makers and leaders and to be supportive facilitators who allow students to be agents in their own learning. Our goal is to support students in navigating the resources available to them so they may be able to change their educational trajectories.
We aim to improve student retention and achievement through a social equity lens and create a program that is unified in empowering students to take ownership of their learning and amplify the strengths they already possess as STEM thinkers and scholars.
Our Who
The Math & Science Tutorial Program is open to all UCSD undergraduate students seeking to be successful in their coursework.  Our program specializes in supporting UCSD's diverse student population.  Priority is given to students who are:
OASIS Transition Program (e.g. Summer Bridge, TRIO/SSSP) 

CASP students

Success Coaching students

First-generation college students

Historically underrepresented students

Low-income students
FAQ'S
MSTP gives students a free, personable, safe learning environment with trained facilitators who provide academic tutorial services and support for their students. Throughout the quarter this bond is strengthened which leads to an overall positive experience. Our workshops are effective because it provides an opportunity to form meaningful friendships while strengthening your knowledge in each course!
Our workshop facilitators will have a lesson plan prepared that reviews the course material in collaborative ways.  You will be asked to actively participate and challenge yourself to grow as a learner in the course. Practice problems done in workshops will not include material directly from the course (homework, quizzes, exams, etc.) to provide parallel learning opportunities to your course content.
Our workshop facilitators are undergraduate students trained to encourage the entire workshop to be a community of learners.  They will provide insight into concepts while encouraging you to critically think about the material.  Our staff facilitates learning through activities and providing recommended study strategies to be a successful UCSD student.
All MSTP services begin Week 2 of each quarter. Workshop applications are available Monday of Week 0 for Fall quarter workshops, and Monday of Week 10 for Winter and Spring quarter workshops.
Workshop schedules for the upcoming quarter will be available on Monday of Week 9 of the current quarter.  (E.g. Winter quarter schedules are available on Monday of Week 9 of Fall quarter)
After you submit a workshop application you will receive an email confirming the receipt of your application. Once your application has been processed you will receive an email confirming either your enrollment or waitlisted status by Friday at the latest.  You can also check your enrollment status at the top of the workshop application page:
https://oasismatrix.ucsd.edu/WorkShops/Applications
No, you may not attend a workshop if you received an email confirming your waitlisted status. Our facilitators dedicate time to create personalized approaches with their students and if waitlisted students attend, this can cause an excessive workload on our staff.  If space becomes available in the workshop, you will be admitted to the workshop on a first come first serve basis.
We recommend that you attend all sessions of the workshop once you are admitted.  Our workshops focus on strengthening content understanding and collaborative learning, meaning that you will gain deeper content knowledge for the entire course if you attend all sessions.  Your ability to explain your understanding of the content will support your peers while strengthening your foundational knowledge in the course.
If you need to miss a workshop let your workshop facilitator know so they can excuse your absence. If you need to leave early or arrive late to a workshop due to a scheduling conflict inform the workshop facilitator so they do not mark you absent from the workshop. If you miss the first workshop, an entire week of workshop, or more than two workshops in a quarter, you will be dropped from the workshop.
Excellent! We Train tutors twice a year with applications due Fall and Spring Quarter for training in Winter and Summer Quarters, respectively. Applications for Fall are due by the end of Week 8. To be eligible you:  
Must be a registered undergraduate student at UCSD

Have a UCSD GPA of at least 3.0, and have completed at least 2 quarter at UCSD at time of application

Be willing to be attend paid trained for a full quarter before hosting their own workshop.
Application Link
OASIS Math & Science Tutorial Program
Center Hall, Third Floor
OASIS Front Office Phone: (858) 534-3760
Email: oasis-mstp@ucsd.edu
Mailing Address: 9500 Gilman Drive
Mail Code 0045 La Jolla, CA 92093-0045          
Social Media