A Message from Director Dr. Charles Lu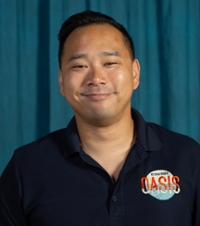 Welcome to the Office of Academic Support & Instructional Services (OASIS)!  With over 40 years of rich history, OASIS was born out of a movement to level the playing field by facilitating the personal and intellectual development of all students, with a focus on first-generation, underserved, and underrepresented Tritons.
As the Educational Opportunity Program (EOP) of the campus, OASIS's mission is deeply personal to me and is sewn within the fabric of my own identity: I am the first person in my entire extended family to be born in the U.S., the second person in my family to go to college (following my big brother), and the first person in my family to obtain a doctoral degree.  As the son of immigrants, as an English Language Learner, and as a first-generation alumnus, education has been essential to every step of my personal and professional path.
But my journey was not always an easy one.  In fact, my first interaction with college was awful.  On my way to my orientation at The University of Texas at Austin, I accidentally got off at the wrong bus stop.  With no cell phone and a few dollars, I had no choice but to begin the two-mile walk to campus, dragging two huge suitcases in 104-degree wet Texas heat.  Rather than the exciting day I had imagined for myself, I showed up to orientation exhausted, drenched in sweat, and hating everyone who had ever encouraged me to go to college.  Luckily, my peer mentor took one look at me and jumped into action.  He solicited the help of other mentors to help me with my suitcases, took me to a private area and gave me one of his own shirts to change into, and began introducing me to new friends.  On my very first day of college, I learned a life-changing lesson: College is not a journey meant to be taken alone.  There is not a day that goes by that I take for granted the education I received and the opportunities it has opened for me. College taught me how to think critically, communicate clearly, advocate for myself and my family, and most importantly, it provided me with a vital network of friends, colleagues, and mentors that I still lean on today.
For over 40 years, OASIS has been described as a "home away from home."  Along with many other departments, programs, and resources at UC-San Diego, we ensure that you are not alone in your collegiate journey.  We offer several programs and services that empower students to reflect and grow personally, build community, learn, and become professionally prepared.  We are also proud to be one of the largest student employers at UC-San Diego, hiring over 150 student positions every year.  If you have not visited us yet, I encourage you to become part of our vibrant and dynamic community.  Thank you for visiting us and allowing us to be part of your journey!
Un Mensaje del Director Charles Lu
¡Bienvenidos a la Oficina de Apoyo Académico y Servicios de Enseñanza (OASIS por sus siglas en inglés)! OASIS cuenta con más de 40 años que enriquecen su historia desde su comienzo. OASIS se formó a raíz de un movimiento que buscaba ofrecer igualdad de oportunidades a través del desarrollo personal e intelectual de todos los estudiantes, con un enfoque en los estudiantes de UC San Diego que fueran de primera generación, de comunidades de bajos recursos y de comunidades subrepresentadas.
OASIS es el Programa de Oportunidad Educativa (EOP por sus siglas en inglés) en el campus; su misión tiene una conexión muy personal para mí y forma parte de mi identidad: soy la primera persona en mi familia extendida que nació en Estados Unidos, la segunda persona en mi familia en ir a la universidad (siguiendo los pasos de mi hermano mayor) y la primera persona en mi familia en obtener un doctorado. Como hijo de inmigrantes, como un aprendiz del idioma inglés y como un egresado de primera generación, la educación ha sido esencial en cada paso de mi vida personal y profesional.
Pero mi camino no siempre ha sido fácil. De hecho, mi primera experiencia con la universidad fue espantosa. Cuando iba en camino a mi orientación en la Universidad de Texas en Austin, me bajé por error en la parada de camión equivocada. Como no tenía celular y sólo tenía algunos dólares, no tuve otra opción más que caminar las dos millas al campus, jalando dos maletas grandes en el clima de 104 grados Fahrenheit del clima húmedo de Texas. En lugar del día emocionante que me imaginé que iba a tener, llegué a la orientación exhausto, lleno de sudor y odiando a todas las personas que me habían motivado a ir a la universidad. Afortunadamente, mi mentor compañero me vio y entró en acción. Les pidió a otros mentores que me ayudaran con mis maletas, me llevó a un área privada y me dio una de sus camisetas para que me cambiara y me la pusiera y me presentó con nuevos amigos. En mi primer día de la universidad aprendí una lección que me cambió la vida: la universidad no es un camino que se deba tomar solo. No ha pasado un día que yo dé por hecho la educación que recibí y las oportunidades que me ha dado. La universidad me enseñó a pensar de manera crítica, a comunicarme claramente, a abogar por mí mismo y por mi familia, pero lo más importante es que me ofreció una comunidad importante de amigos, colegas y mentores en quienes aún me apoyo el día de hoy.
Por más de 40 años OASIS ha sido descrita como "un segundo hogar." Al igual que muchos otros departamentos, programas y recursos en UC San Diego, nos aseguramos de que no estés solo en tu camino universitario. Ofrecemos varios programas y servicios que empoderan a los estudiantes a reflexionar y a crecer a nivel personal, a crear un sentido de comunidad, a aprender y a prepararse profesionalmente. También nos enorgullece el ser uno de los más grandes empleadores de estudiantes en UC San Diego; contamos con más de 150 posiciones para estudiantes cada año. Si aún no nos has visitado, te recomiendo que formes parte de nuestra comunidad activa y dinámica. ¡Gracias por visitarnos y por permitirnos formar parte de tu camino!
Dr. Charles Lu was appointed Director of the Office of Academic Support and Instructional Services (OASIS) in 2017.  In his role as Director, he provides strategic oversight and management of the center, and works collaboratively with external units to create programs and initiatives that provide a holistic and student-centered academic experience.  Prior to his arrival at UC-San Diego, he was Director of the Gateway Scholars Program, the largest student success program at The University of Texas at Austin. Dr. Lu has also served as a clinical assistant professor, teaching courses on critical issues in higher education, organizational leadership, and undergraduate research methods for TRIO's Ronald E. McNair Scholars Program. A published author, Dr. Lu's research on STEM identity development, student success, and diversity in higher education has been highlighted in popular media, book chapters, and peer-reviewed academic journals, including Inside Higher Ed, Diversity Abroad, Journal of College Student Development (JCSD), Journal of Student Affairs Research and Practice (JSARP), Journal of Hispanics in Higher Education (JHHE), Journal Committed to Social Change on Race & Ethnicity (JCSCORE), International Journal of Education in Mathematics, Science, and Technology (IJEMST) and the Journal of African American Males in Education (JAAME).
In addition to his work at UC-San Diego, Dr. Lu provides leadership to several national organizations.  He is an at-large board member for the Association of College Tutoring & Learning Assistance (ACTLA), is the Faculty-in-Residence for NASPA's Men & Masculinities Knowledge Community, and serves on the conference planning committee for the 2020 Diversity Abroad conference.  He was also a founding member and is a current Research Affiliate with Project MALES (Mentoring to Achieve Latino Educational Success) at The University of Texas at Austin.  In regard to scholarship, Dr. Lu is on the editorial board for the Journal Committed to Social Change on Race & Ethnicity (JCSCORE) and is also a guest editor for a special issue on Latinx students at Minority-Serving Institutions with the Association of Mexican Americans in Education (AMAE). 
Over the years, Dr. Lu has served as an educational researcher, consultant, school director, academic coach, middle school science teacher, and was the recipient of the Toyota International Teacher of the Year award, where he created a virtual curriculum on environmental sustainability in the Galápagos Islands.  He is a proud alumnus of several notable programs, including the U.S. State Department's Fulbright Program, Education Pioneers, and Teach for America.  Dr. Lu received his Ph.D. in Higher Education Administration and B.S. in Psychology from The University of Texas at Austin, and his M.A. in Secondary Science Education from Loyola Marymount University.  Outside of work, Charles is a coffeehouse junkie, exercise enthusiast, real estate investor, and global traveler.